Direct Mailers
Starting at $133.56
Printed on Premium 14pt. Cardstock
UV2 or UV1 Gloss
Custom Finishing Options
Super-Fast Turnaround
Single or Double-sided Printing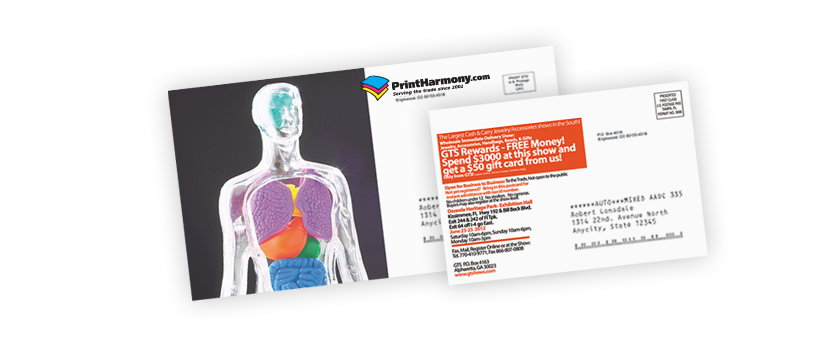 Direct Mail packages will save you money if you are launching a mailing campaign. We can not only print the material for much less but we can also save you time by doing the sorting for you and you will save a lot on postage since you will be using our mailing permit. You can save up to $.22 per piece by using our direct mail program.
We have the equipment to be your printing and mailing house. Let us be your turnkey marketing solution. We will print, label, and mail your postcards so you don't have to go to 3 different companies for these services.
Convenience. We offer a one-stop solution for printing and mailing
Your printed products can be mailed 2-5 business days after the printing
You don't pay to have printed products shipped to you or to your mail house
We will CASS certify your list to ensure that addresses are valid.
Design your business cards right the first time by using a template. Our templates are setup accurately assuring your print job is produced properly. To download, click the download template button below:
Download Template
Step 1.

Choose Product

If you can not find the product you are looking for submit a custom quote here

Step 2.

Select Product Options

Size
Color
Turnaround Time
Coating
Etc.

Step 3.

Add Product to Shopping Cart

You will see an instant price for all listed products
Click the Add To Cart Button

Step 4.

Review Shopping Cart

Name Your Job
Select Shipping Method
Add Any Special Instructions
Once Satisfied Click The Checkout Button or Continue Shopping

Step 5.

Payment Page

Select Billing Address
Select Payment Method
Review and Accept Terms/Conditions
Click Complete Button

Step 6.

Upload Files

Upload Now
Upload Later
My Designer Will Upload
Files Are At A 3rd Party Download Source (i.e. ftp, dropbox, sendspace)